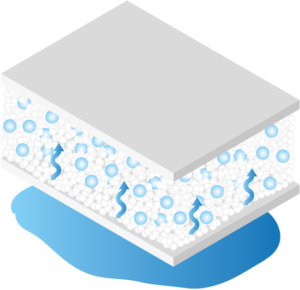 The unique Absorbest technology, featured in DryMax, is a result of years of clinical experience, specializing in leaking, chronic wounds such as leg ulcers, pressure ulcers and diabetic foot ulcers.
A soft wound contact layer takes care of and transports fluid and distributes it vertically and evenly into the dressing core, preventing leakage, malodor and maceration. By efficiently locking in the exudates, the surface layer contributes to an optimized moisture balance environment.*
The dressings capture and sequesters wound fluid containing bacteria and other substances detrimental to the wound healing process. Due to the dressing's high capacity, the caregiver and patient will feel safe and secure even when the amount of wound fluid varies from low to high. The fluid is kept inside the dressing and will not leak back into the wound to the same extent as traditional foam, hydrofiber and cellulose-fluff dressings. *
The ultra-thin, soft and highly conformable material provides close skin contact with fewer creases, making the dressings easy to use, while providing a neat, more appealing look and feel. That also makes them suitable to use on wounds that need compression therapy to heal.
DryMax Wound Care is available in several designs, developed and customized for different applications. The common features are the high fluid handling capacity, where the absorption surface is maximized on each dressing.
All DryMax Wound Care products are carefully tested and designed with the help of experienced professionals in real health care environments, resulting in millions of sold dressings – and healed wounds.
We are a flexible and modern company with an active presence in the big medtech markets. Our in-depth knowledge of our focus wounds, and our well-developed method for treating wounds, make us both strong and competitive.
Watch how Absorbest is taking lead in the development of the solutions for the future.
The population of chronic wounds are growing worldwide. Less and less resources is to be shared among a growing group of individuals. The industry has an important responsibility to continuously develop products that contribute to improved health and reduced costs. Products need to be easy to handle and understand, creating a basis for a more efficient handling.
Next generation wound dressings will lead to a severely more controlled quality of the wound healing. Next generation wound dressings will go from being just a tool to manage the wound to become an integrated device that enhances practical efficiency and optimizes dressing change frequency.
Next generation wound dressings will contribute to reduced health care costs and improve the health economics. Next generation wound dressings will allow valuable nursing time to be released as well as help both caregiver and relatives to more easily monitor the wound treatment.